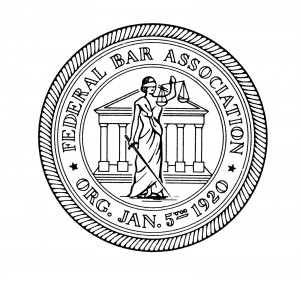 Welcome to the Southern District of New York Chapter of the Federal Bar Association! We are proud to serve the Southern District, first convened on November 3, 1789, the oldest, largest, and most prestigious federal trial court in the land.
We are not the only bar association in New York City. We are not even the only bar association serving federal practitioners in New York City. But we aim to be the most responsive to our Court , to our members, and to the public interest. We want you to join us!
Why the FBA?
First, we are a national organization. We have close to 16,000 members nationwide. We have a national, award winning magazine, The Federal Lawyer. We have a substantial presence on Capitol Hill. We have 25 national sections covering all varieties of federal practice, from Antitrust to Young Lawyers. We have a large and devoted membership of Federal Judges – indeed, our president elect, the Honorable Gustavo Gelpi, Jr., is a sitting United States District Court Judge in Puerto Rico. He says that joining the FBA, at the suggestion of his lawyer father, is one of the most important professional decisions he ever made.
Second, we need you. We have a wide variety of open leadership spots. There is no need to wait and work your way up through a lockstep, Soviet-style hierarchy of some of our sister bar organizations.
Finally, we have an important mission. Our federal court system is one of our nation's most valuable resources – a model of fair, cost effective, and safe dispute resolution throughout the world. They are increasingly being asked to do more with less. Our mission is to preserve our federal courts and help them meet the challenges of the future, particularly our beloved Southern District.
Join us. Feel free to call or email any of our officers to talk about opportunities. Our monthly meetings are open to all.